My typical Redhorse/Sucker gear.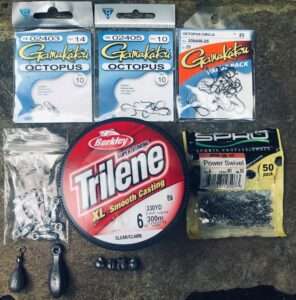 This is some of the gear I will typically use for very stubborn, light biting, weight sensitive Redhorse (Moxostoma), but other Sucker species can be caught as well with this gear.
Top left to right:
Gamakatsu Octopus Hook size 14 -for very small or weight-sensitive Suckers, such as Blacktip and Striped Jumprocks.
Gamakatsu Octopus Hook size 10 -for small Redhorse species, also for hook sensitive species.
Gamakatsu Octopus Circle Hook size 8 -the smallest reliable circle hook I can find, works well but I wish I could find a smaller circle hook.
1/8 oz lead bank sinkers -the smallest bank sinkers I could find, to make really light slip rigs for tricky Redhorse.
Berkley Trilene 4 and 6 pound line -absolutely necessary for line shy Suckers, especially Redhorse, I use the 6 pound more than I do the 4 pound, especially around areas with high amounts of snags.
Spro Power Swivels -To make slip rigs for Redhorse and Suckers. I usually use about 16-22 inches for leader.
1/2 oz lead bass casting sinkers-For slip rigs in faster current.
1 oz lead bank sinkers-For slip rigs in medium to large rivers with heavy current.
Lead split shot -Size 4 and 5-Very useful.
by Tim Aldridge