Description
Techno Frogs are the ideal finesse Bass bait made in the USA. Have you had days fishing when the Bass just weren't hitting your spinner baits, crankbaits, or topwater? It's time to pull out the Techno Frog finesse soft bait.
$9.99 4 Pack Techo Frog (Shipping Included)!
Available in THREE COLORS!
4 Inch Finesse Bait
Realistic Action in a Soft Plastic Bait
Rig it Ned, Weedless, or However You Want
Largemouth, Smallmouth, and More!
When fishing slows down try a finesse bait like the Techno Frog. Sometimes, Bass just want an easy meal or a smaller meal. This can be especially true when the water is cooling down.
The Techno Frog is a 4″ soft plastic bait that moves very much like a real frog. Designed, tested,  and made in the United States by an independent lure maker. It can be rigged seedless, ned style, or any other way you prefer.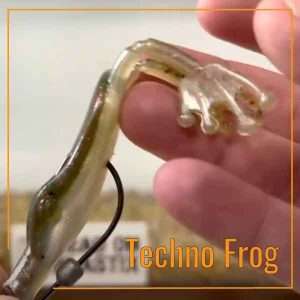 The shape and style of the body create lifelike gliding action, like a real frog. The slow lifelike movements and the paddletail feet make a meal Bass can't resist. Whether you're fishing for Largemouth or Smallmouth Bass I think you will find this soft plastic like nothing you have used before.
Techno Frogs are made from a durable soft plastic. The Techno Frog is strong, flexible, and a perfect finesse Bass bait. handcrafted in the United States.