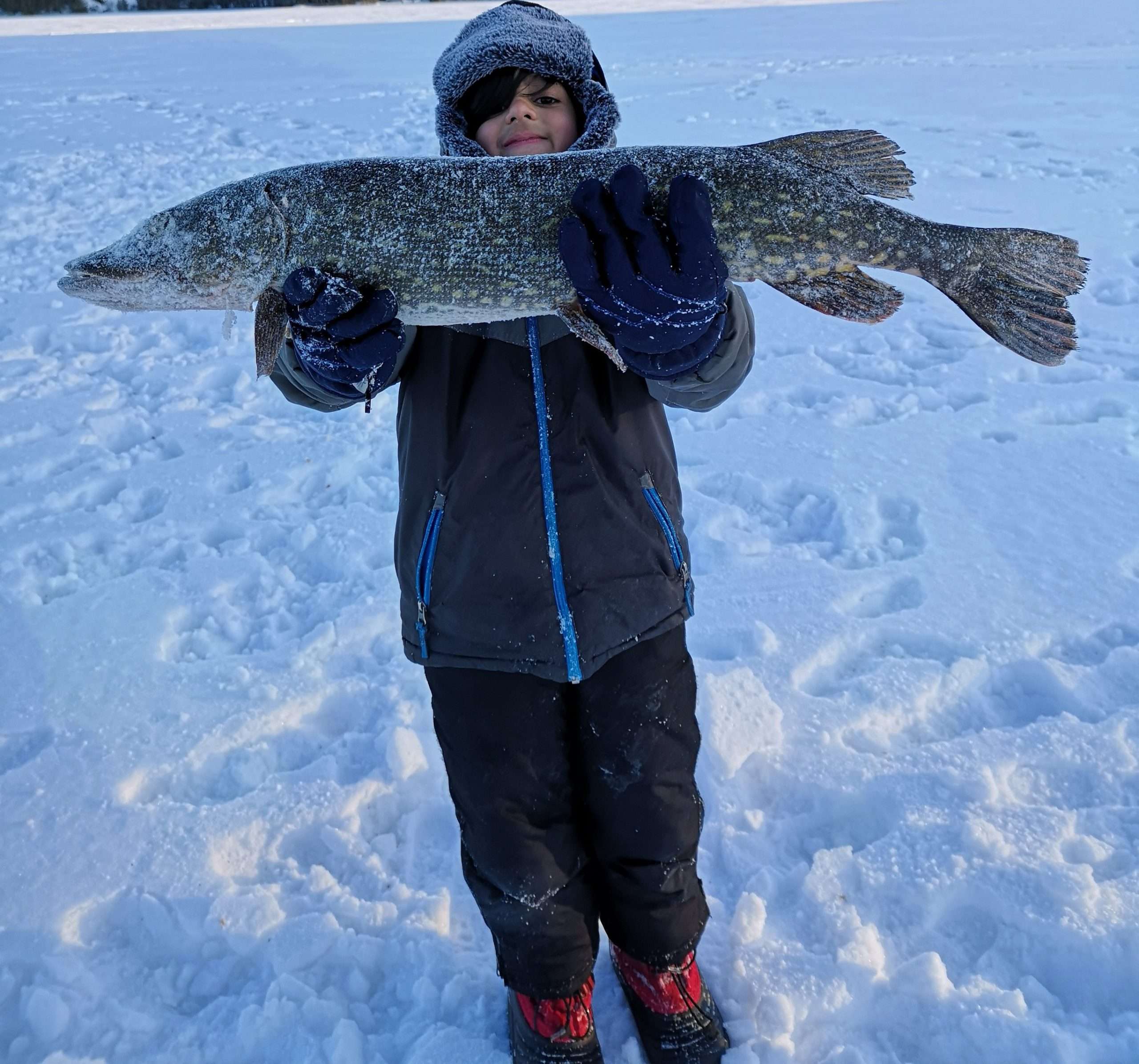 We like fish and often make dishes other than baked or fried. Pike and pickerel tend to have a lot more bones in them than most other fish. I can filet the bones out but I'd rather filet most of the bones out and use a manual meat grinder with a fine disc to grind the filets.
After fileting and taking the skin off the filet I chunk the meat and marinate it in the wet ingredients overnight before grinding. The skin will come off once you get enough started to get a thumbnail on and push the filet knife down against the cutting board. Short back and forth strokes will usually cut the skin off without wasting much if any meat. The chunked meat will sit overnight in the fridge. The breadcrumbs are added in and mixed just before grinding the meat up.
After running the chucked and marinated meat into the grinder get the pan ready by placing it on the stove on medium.
Make the patties while the frying pan is heating up. Add in a thick layer of grease or oil and wait for it to get hot. Once hot place two or three patties on the frying pan. Three to four minutes per side should be good provided your cakes aren't too thick. As they cook place them aside and continue until they are finished.
Tartar sauce can be a great sauce for the cakes even if you make sandwiches with them. Experiment with the tartar sauce and add in some flavors that you might like. Cilantro instead of parsley can be a good substitute.
One good-sized pike will make a dozen patties. Other fish can be added and mixed in with the pike if you like. Pike isn't even the only fish you should make fish cakes with. Pike is such a mild fish and because any bones that are in the meat frying will soften up. It is tempting to make this recipe and instead of the Old Bay and mustard making a good pork breakfast sausage recipe with the pike.
Ingredients
1

pound

ground northern pike or chain pickerel meat

1

large egg

beaten

1

tablespoon

prepared yellow or Dijon mustard

1

tablespoon

Worcestershire sauce

1

teaspoon

Old Bay seasoning

dashes

of

hot sauce

or to taste (I prefer Tapatio)

1/2

cup

bread crumbs

(I make them by toasting bread and mashing it up)

2

tablespoons

chopped fresh parsley

1

tablespoon

lemon juice

1

teaspoon

salt

1

teaspoon

ground

white pepper

1/4

cup

canola oil to fry the fish cakes in
Tartar sauce recipe
1 cup real full-fat

mayonnaise

2 tablespoons

of

sweet pickle relish

1 teaspoon

prepared yellow mustard or Dijon mustard

2 tablespoons

lemon or lime juice to taste

1 tablespoon finely chopped parsley

Salt and black pepper to taste